If you're a wholesale business or industry service, you most likely attend tradeshows on the regular. Tradeshows are essential to your business as they educate newcomers on your offerings, entice other businesses to buy from you, and solidify your reputation and brand identity. Because tradeshows are an opportunity to showcase your business in its best light, choosing a display that reaches this goal is imperative. It makes all the difference between a potential client stopping at your booth, or walking on. Here's how portable displays can make all the difference at a tradeshow.
What Are Portable Displays?
Portable tradeshow displays are available in a large range of products. The basic idea is that the display can be easily put up and taken down, and it can fold up so that you can conveniently bring it with you, without having to hire a team of helpers. Portable displays can include table top exhibit displays, displays with stretch or vinyl fabric with your company's logo on it, 3D pop-up booths, backdrops, concession tents, branded banner stands and flags, flooring mats, kiosks and more. Depending on the type of product you are showcasing, your trade show design needs will vary. Browsing through the line of products available and choosing the one that best fits your brand will help streamline your look and modernize your booth.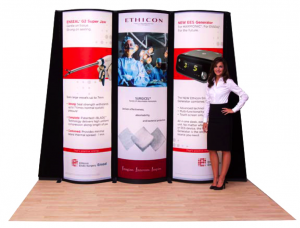 What Are the Advantages of a Portable Display?
You might be thinking your current setup is great, and aren't too keen on making a change. Well, portable displays offer more advantages than you might think. Especially for smaller businesses and those with smaller teams, portable displays work best due to their easy design mechanisms.
Cost Effective – portable displays are one of the most cost-effective display types there are for tradeshows. With easy set-up and take-down that can be done by one person, you're saving money on hiring professionals to help set-up your booth. Because of their compact design, when packed up, the displays can easily be transported, saving you money on trucks and baggage fees.
Time Saver – portable displays are also efficient when it comes to the time you save. Rather than toiling away during setup and takedown, you can easily pop-up your booth and display. Your saved time can go towards prepping for the show, networking, and relaxing a bit before the conferences.
Flexibility – with a level of flexibility offered with portable tradeshow displays, your company can have the choice between changing up the display for other shows, and by season. Not only is this cost-effective, but it's great for those who do multiple shows a year.
Impact – portable displays give you the same or a better impact that a regular display would give you. With great graphics, the ability to incorporate technology and customization, the displays will do exactly what they are intended for – to bring in clients and excite and educate them.
Lightweight and Easy – geared towards ensuring your setup and takedown is as seamless as possible, portable displays are designed to collapse and pop-up without tools or a group of professionals. This makes your life easier, and the dreaded take-down not so dreaded. With their lightweight nature, these displays can easily be transported in your personal car, removing the need for a truck rental.
Variety – unlike many other displays, investing in a portable display doesn't limit you to that particular design forever. With a large variety of options to choose from, you can get whatever fits your brand best, and with their parts snapping together, you can add on or take away from a bigger or smaller display easily.
Customize Your Portable Display to Impress
Customization is easily the best way to stand out from the sea of competition. Because you will be interested in capturing new and existing clients, you'll want to ensure your first impression is impressive. Portable tradeshow displays allow you to customize based on your business, the event, or a specific product you're promoting. You can change the graphics and canvases easily, incorporate technology into the display, change up the sizes and shapes of the display and much more.
Location, Location, Location!
No matter what kind of display you have, if your tradeshow booth location is tucked away in a corner beside the bathrooms, no one will find you. Location plays a very important role when it comes to a tradeshow, as attendees don't have as much time as we'd like to think, meaning they usually stick to the main pathways. With all the chaos, crowds and overwhelm, the location of your booth will be critical to your marketing success. Picking a high-traffic area that's also not overly crowded or noisy (avoid areas near food stalls or entrances and exits), is best. Corner spaces, booths at intersecting aisles and main pathways are great locations to get the best out of your experience.
What Do You Want to Accomplish?
A great way to guarantee success from an experience like a tradeshow is to first outline what you want to accomplish. Setting goals for both yourself and your team will help ensure everyone is on the same page, and align your approach into keeping the goal front of mind. Then you can work together to get the best display possible.
See success at your next tradeshow with portable displays!