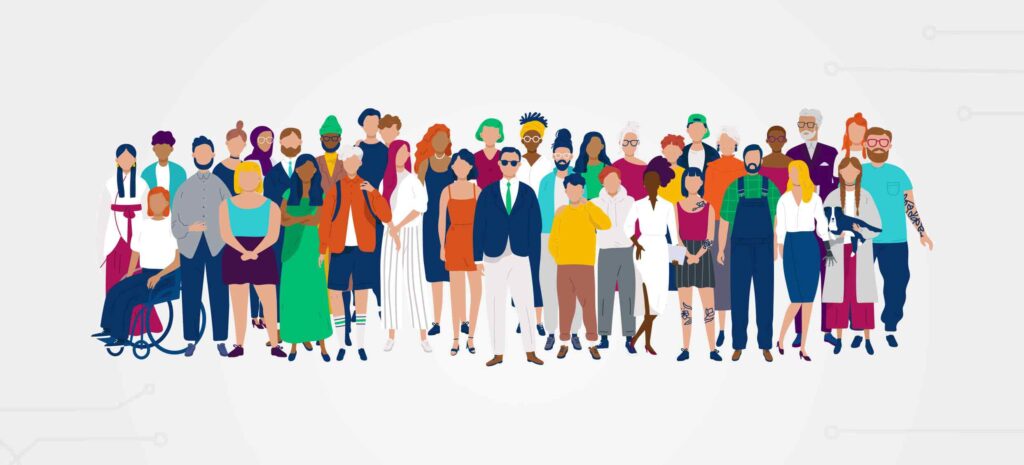 Over the last couple of years, issues related to social justice have begun to positively impact today's organizations. Over two-thirds of today's working men and women consider diversity when seeking a company to dedicate their time and talents to. However, only 40 percent of employees believe that their decision-makers prioritize such inclusive workplace cultures.
As such, diversity and inclusion (D&I) are more than moral prerogatives. They're crucial for improving engagement, trust, retention, and boosting innovative thinking among current and prospective staffers who are increasingly focused on wider societal concerns. But what practical steps can an HR team take to turn the noble goal of building a diverse and inclusive workforce into reality?
It all starts with the creation of a diversity and inclusion committee.
Difference between what and how: defining diversity and inclusion
Even though diversity and inclusion tend to be used interchangeably, HR should keep in mind a crucial difference between the two. Diversity is all about the what: recognizing, respecting, and valuing differences based on ethnicity, gender, color, age, race, religion, disability, national origin, and sexual orientation. Diversity also means celebrating different personal perspectives and various life experiences.
Meanwhile, inclusion deals with the how. Specifically: how can an HR team create a work environment and culture that enables all employees to participate and thrive? A successful diversity, equity, and inclusion (DE&I) strategy empowers everyone in an organization to feel involved and valued for their unique talents and contributions. Inclusive environments ensure that people feel free to bring their whole selves to work.
Another way of looking at it is that inclusion provides the fertile ground necessary for diversity to bloom.
From vision to implementation: diversity and inclusion committee
As a first step, getting C-suite support for a DE&I strategy is key. After that, HR will need the help of boots on the ground to put such a strategy into action. This is where the diversity and inclusion committee enters the picture.
Implementing (and not just talking about implementing) diversity programs successfully is based on constant diligence. That's the reason establishing a diverse committee of staffers from all organizational levels, locations, and departments is such a good idea. By giving such a committee the authority to implement DE&I goals and promote diversity and inclusion, an HR team is likely to increase top talent buy-in.
An effective diversity and inclusion committee must have three primary and clearly defined functions:
Act as an advisor on DE&I initiatives, ensuring they align with and complement broader organizational goals and strategies.
Develop an action plan to integrate DE&I initiatives consistently across an entire organization.
Gauge the effectiveness of DE&I by measuring managerial compliance with initiatives.
4 key steps to building a powerhouse diversity and inclusion committee
Recruit the best of the best: The drive toward diversity will only be as effective as the people chosen for an organization's diversity and inclusion committee. HR must create a compelling message and communicate it to all staffers: the time to have a conversation about developing a thoughtful strategy around diversity and inclusion has arrived. The composition of the committee should set an example for the entire organization. Every possible demographic and a healthy mix of executives and junior level staffers should be included.
Do the data: Staffers on a diversity and inclusion committee will need to access data about what their organization looks like. By gathering information on such criteria as employee age, gender, sexual orientation, ethnicity, national origin, and family status, a committee will better measure the current state of equity inside an organization.
Pinpoint problem areas: A committee should conduct a survey to determine employees' feelings about the company culture and environment. By strategically designing the questions, a diversity and inclusion committee will be able to gather valuable insights that HR leaders can then use to modify current DE&I programs.
Set clear goals: Following the fact-finding phase, the committee should create a set of goals. Examples include creating recruiting events targeting underrepresented groups, instituting programs to combat biased hiring practices, organization-wide sensitivity training, and establishing KPIs and target dates to measure success. To maximize effectiveness, the diversity and inclusion committee should be split into smaller groups, with each one dedicated to a specific goal.
HR: an organization's equity driver
As a leading industry analyst and researcher, Josh Bersin has said that diversity and inclusion are driven by HR. However, a major obstacle to creating more diverse and inclusive workplaces is the gap between perception and reality. While 70 percent of organizations believe they effectively attract and retain diverse employees, only 11 percent actually understand what it is.
A committed HR team can help bridge this gap with the help of an organization's in-house equity warrior: the diversity and inclusion committee.
Author Bio:
Adi Janowitz is VP of Customer Success at Hibob. Adi has vast experience in building and leading Customer Success organizations in SaaS companies. In her recent role, she re-built the EMEA CS department at WalkMe. Prior to that, she built the Idomoo global CS org from the ground up. Adi's focus is on boosting retention by building a scalable KPI-driven CS organization while creating KPI coherency for the entire company.