You've decided to get a security system to protect your family, home, and possessions. You may now be wondering whether you should have it professionally installed or whether you can put your DIY skills to use. Doing it yourself is obviously cheaper but if you have no experience, you don't want to play around with something as serious as security. An improperly installed system can put your life at risk.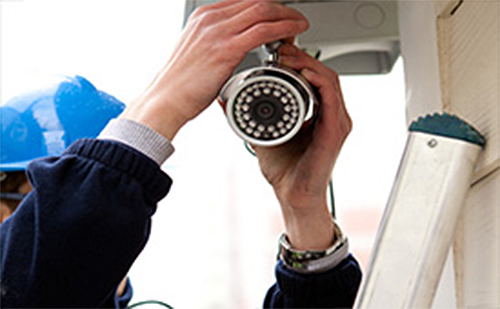 Types of systems
Before you can get to the installation stage, you will need to decide which type of system you want. Home security systems tend to fall into two major categories. There are those which make a loud alarm sound if the house is broken into, but they don't send any information to a central monitoring system. These are cheaper since you won't have to pay a monthly bill for monitoring. However, you will still need to call the police or hope that your neighbors call them if you're not at home.
The second type of system comes with a monitoring contract and you pay a little less for the system itself. When the system is activated because a seal broke or there was some type of unexpected movement, a signal is sent to the monitoring station. Personnel will then call you to find out whether it was a false alarm of if you need assistance. Silent alarm systems are also possible. Closed circuit TV, pressure mats to detect footsteps and motion detectors are all available.
After you decide, you need to determine who will do the installation. Here are some of the pros and cons of each approach.
Pros of professional installation
You won't have to do anything. A technician will visit your home or business, install the system correctly and ensure it is working properly. He or she will also be able to answer any questions you may have and advise you on how to make the best use of security systems. You will learn about possible enhancements to the system and if there are any other measures you need to consider. There should be little disruption to your normal everyday activities while the technician is working. The professional will do the job as quickly as possible and you can use the time to do other things.
Cons of professional installation
There are of course a couple drawbacks to professional installation. They chiefly relate to cost and time. You will have to pay installation and activation fees and you need to schedule the time to be at home when the technicians arrive. If you relocate, you'll need to have the technicians return for the system and install it in your new home.
Pros of DIY installation
If you choose to the do the job yourself, you will be in full control. If you have some technical skills and a little experience with electricity and fixing things, you may be right in your element. You'll save some money and do something you enjoy or at least understand. You'll also feel good about accomplishing the task on your own.
Cons of DIY installation
This approach is not without its problems, though. If you don't have enough knowledge you may miss a small but key step. This can prevent the security system from working optimally. You can waste a lot of time trying to correct a problem and in a worst-case scenario, you may end up having to call in a professional anyway.
Choosing the right professional
If you've decided to go the professional route after weighing the pros and cons, you will need to hire the right company or person for the job. After all, you want it done correctly and efficiently. Most people opt to have their security system installed by the company which sold it to them. You should, therefore, choose a company with excellent reviews and great after sales service. Do your research before you make a commitment. The same applies if you opt for a different company.
A security system is key to ensuring peace of mind. It protects against theft and violence and provides a record should anything go wrong. You want to ensure it's working correctly. If you have any doubts about your ability to DIY, it's best you call in the professionals.