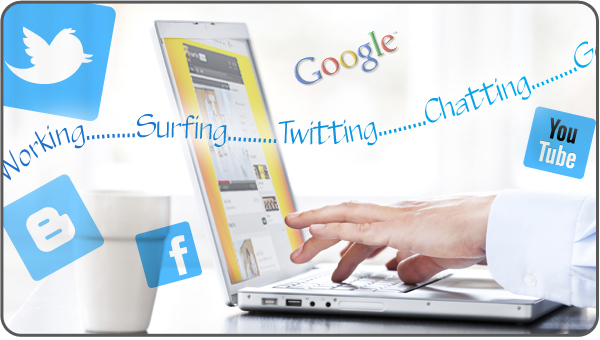 Typically speaking, online marketing is a process and a combination of utilising a variety of different ways to increase your visibility online. Online sales can help business grow exponentially. In fact, nowadays, there are an abundance of businesses that are solely based online – some of them extremely profitable. People often say the high street is dying, so perhaps now, it's even more important that you take online marketing seriously.
Maybe you started your local business decades ago, a time before the internet existed. You found success then, and you might therefore not feel any need to make changes now. However, new businesses are starting all the time, many of which will probably be entering into competition with you. New businesses may be more likely to get on with online marketing from the offset, so you need to make sure you don't fall behind them by acting on online marketing too late.
Online marketing campaigns can be as simple or as complex as you'd like them to be. However, you might not have the foggiest idea of where to get started, which is hopefully a problem that will be addressed by this article. We'll explain some of the basics when it comes to advertising online, and with any luck, by following our advice, you'll experience increased profits and business growth. Though covering everything with regards to online marketing would be impossible in one article, we can certainly cover some of the most important things that you need to be utilising.
Get Listed on Online Directories
People use online directories when they're looking for a specific business in their local area, so it's a no brainer that your business needs to be featured on them.
Don't let your potential customers find your competitors instead of you. Thomson Local is one of the UK's largest online directories of local businesses and really is a go to place for local business advertising. You can add a free listing on the Thomson Local directory (we told you online marketing can be cheap) and they'll work with partners to get your business listed on relevant sites, as well as their mobile application.

Thomson Local receives millions of searches every month from people in the UK, and some of them will certainly be looking for your business, which is why you need to make sure you're listed on the Thomson Local website. Plus, being listed on online directories, such as Thomson Local, gives your potential customers access to your contact details and location with just a few mouse clicks.
Make Sure People Will Love Your Website
It's almost amazing how quickly the internet has become so popular. But that is a fact, and because of that, you need to make sure you have a website for your business. Plus, you're website needs to look good if you want people to actually spend time on it and ultimately, make a purchase. You might want to consider paying experts with experience to craft you a unique website that customers will love, as this could prove to be a valuable investment.
However, given these tough economic times, it's understandable you might be looking to save money. Well, that's not a good enough reason to avoid having a website built when you can quite easily make one yourself by using some of the great tools out there. These tools make the process of website building simple, and your website will look great, too.
Get To The First Page of Google
Undoubtedly, most people will rarely look past the first page of Google. There usually isn't any good reason to, because Google's purpose is to connect user searches to the most relevant information. This obviously means that what Google considers to be the best match to a search term will be placed highly, and you want to be at the top for specific searches that will lead to an online sale.
The process of trying to get your website to rate highly on the search engines is called search engine optimisation, and it's not the simplest or quickest process. But for starters, you need to ensure your website is well-written and you should post content regularly if Google is going to think your website is important.
You also get higher in the search rankings by getting featured on other websites. This process is called link-building. Direct competitors may be unwilling to promote your business, but links to your website don't necessarily need to be placed on industry-related websites to boost you up the rankings.
Don't Forget About Facebook!
Facebook has attracted over a billion users worldwide, in every corner of the globe, and some of those users are your potential customers. Many people check their social media feeds every day, providing you with the perfect opportunity to attract followers and market to potential customers for free. Paid advertising may see a good return on investment, so we wouldn't suggest ruling that out. However, as aforementioned, these are tough times, so regardless of whether you want to pay for your advertising, we still recommend you take advantage of social media as a means to connect with customers for free.
Building your online identity is simply vital in our modern times. Make yourself a website, optimise it for search engines, don't neglect social media and add a free listing on directories if you want to see your online sales soar.